Two new crane signs left our factory today bound for the crane yard where they will be mounted onto the crane jibs. Here they are loaded onto a hiab ready for transportation.
The team have worked non-stop this fortnight to prepare the crane 'exchange' lettering.  There are 4 sets of double-sided 'exchange' signs in 4 colours – red, orange, teal and blue.  Spanning over 8.5 metres in width, the letters are made of 3mm ali and 2 pac painted.
The lettering is illuminated with rope neon LED's for high visibility.  This design features LED's contained within a moulded plastic tube to give a neon effect and replicate legacy neon signs of the past. Two of the signs have RGB LED's to allow for interchangeable colour – now wont that be funky!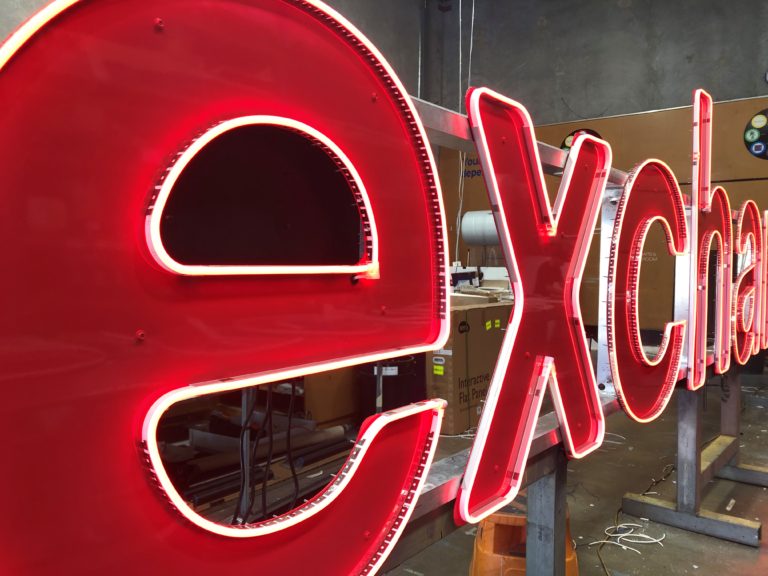 The individual letters are mounted onto a jib frame to allow for easy installation on site.
The next time we'll see them is floating high above a new development in Perth's CBD. Look out for 'exchange' as you scan the night's sky! Probuild have been selected to build three buildings as part of Curtin University's new industry-connected innovation precinct called Exchange. This has been designed as a transformative hub that will serve as a catalyst for innovation benefiting students, industry and the broader community.
For help or advice on rope neon LED signage, call the office today and ask for Roy. 08 9274 5151.